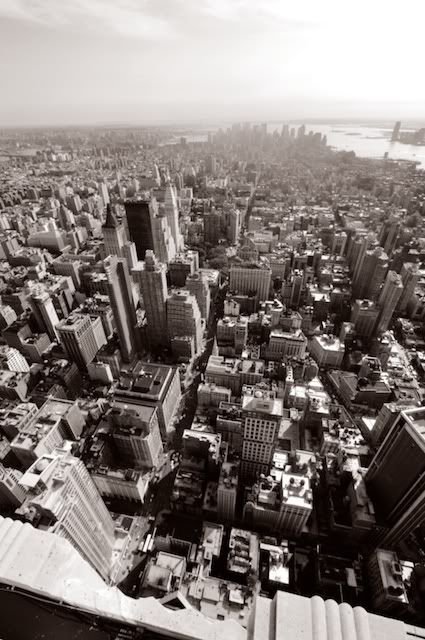 What is a trip to New York without a visit to the Empire State Building? There was a massive queue and the tickets were ridiculously expensive, surprise surprise... After my wallet was considerably lighter, we made our way through a labyrinth to reach the elevator that is used exclusively for tourists. Upon reaching our floor we walked into an empty room covered in concrete with scaffolding in the corner... we were then ambushed by a whole host of people trying to sell us junk; audio tours, souvenirs etc and they even had us stand in front of a blue screen for a photograph which they would then try to flog to us! It began to feel more like a theme park ride than a skyscraper...

Now the tallest building in NYC since 11/9/01, it was a pretty impressive view from the top. This was taken from the 88th floor... I think; can't remember. I peered beyond the metal fence and looked down at Manhattan and everything was like a model! The little toy cars looked like ants and you could barely make out the fuzzy blobs of people. I held my camera over the edge as if I was holding on for my life and just fired blindly.

This is looking south; Time Square is just above the centre and the Statue of Liberty is that little speck at the back.

Strangely, looking back at this photo makes me want to go jump out of a plane more than ever...